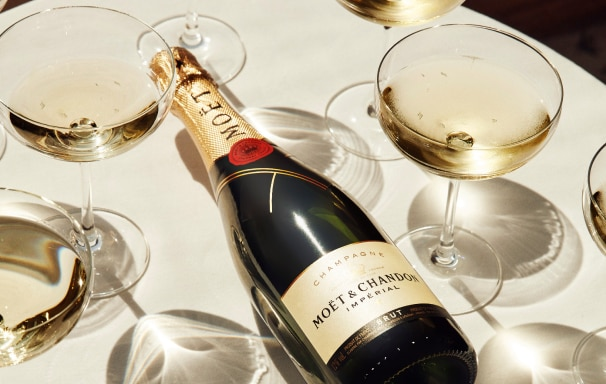 MOËT IMPÉRIAL CHAMPAGNE BRUT
ASTING NOTES
COMPOSITION
Its blend reflects the diversity and complementarity of the three main grape varieties in Champagne whose proportions vary from year to year, but always find the same harmony: the body of Pinot Noir (30 to 40%), the suppleness of Meunier (30 to 40%), and the finesse of Chardonnay (20 to 30%).

AN ELEGANT APPEARANCE
Slightly golden straw yellow with delicate green glints.

A STRIKING NOSE

Green apple, citrus, etc. The striking intensity of these fruity notes is immediately followed by a wave of mineral freshness and white flowers. Then, the blonde nuances of brioche, cereals and fresh nuts hint at elegant maturity.

THE PALATE COMBINES GENEROSITY AND SUBTLETY

Generous and tasty, white fruit notes including pear, white peach and apple, unfurl on the palate, in the company of fine, light bubbles. Then, little by little, the sweet liveliness of the citrus nuances comes into focus, and lingers delicately in the mouth.

Food Pairing
-Raw food, sushi, sashimi, fruit carpaccio or aromatic herbs.
-Fresh fruit with a contrasting seafood element, whether salty or spicy.
-Acidity that is pronounced, yet partners harmoniously with a fatty sensation:white butter with capers, avocado cream and caviar with lemon...
The taste of the sea: oysters, oyster leaf, sea urchins, etc. A vegetable nuance.no overcooking and seasoned (extra virgin olive oil and coarse salt) to softenthe vegetal sensation. A touch of warm spice, turmeric or curry for delicateseasoning.